Sorority History
Delta Sigma Theta Sorority, Inc. is a, non-profit organization whose purpose is to provide assistance and support through established programs in local communities throughout the world. Founded on January 13, 1913 by twenty-two collegiate women at Howard University, the Sorority is currently a sisterhood of more than 200,000 predominately Black college educated women. This includes over 900 chapters located in the United States, England, Japan (Tokyo and Okinawa), Germany, the Virgin Islands, Bermuda, the Bahamas, and the Republic of Korea.
The major programs of the sorority are based upon the organization's Five-Point Programmatic Thrust:
1. Economic Development
2. Physical and Mental Health
3. Educational Development
4. Political Awareness and Involvement
5. International Awareness and Involvement
For more information, visit our national website at www.deltasigmatheta.org
Los Angeles South Bay Alumnae Chapter History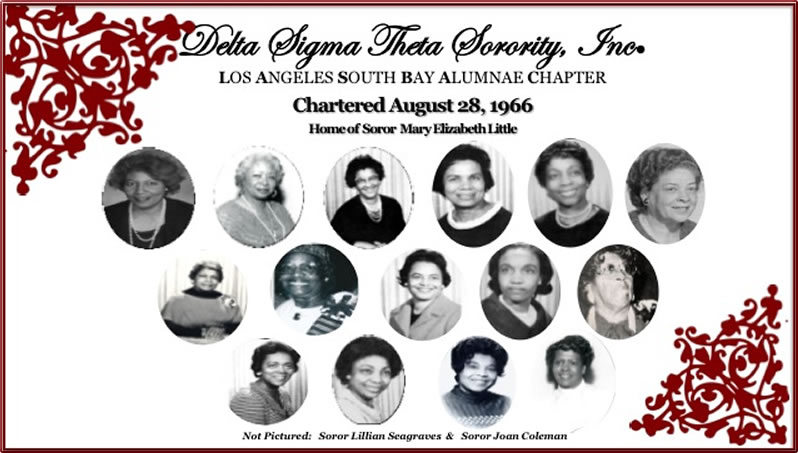 The Los Angeles South Bay Alumnae Chapter was chartered August 28, 1966. The chapter was chartered by the 13th National President, Geraldine P. Woods, and became the 253rd chapter of Delta Sigma Theta Sorority, Inc. Seventeen distinguished women, led by first Chapter President Niecyee Robinson, united to plan and implement programs to address those unique needs of the South Bay communities: Carson, Gardena, Compton, Wilmington, Lynwood, Long Beach, and South Central Los Angeles. The charter members of Los Angeles South Bay are as follows:
Soror Nancy Banton (deceased)
Soror Elizabeth Barr (deceased)
Soror Zelma Bell (deceased)
Soror JoAnn Coleman (deceased)
Soror Adelaide Dunn (deceased)
Soror Audrey Duplessis (deceased)
Soror Thelma Hardwick (deceased)
Soror Thelma Hudson (deceased)
Soror Mary E. Little (deceased)
Soror Niecyee Robinson (deceased)
Soror Lillian Seagraves (deceased)
Soror Anne Louise Stafford
Soror Jo Evelyn Terrell (deceased)
Soror Ada Shannon Williams
Soror Marge Wilkins (deceased)
Soror Ablyne Wing (deceased)
Soror Hortense Woods (deceased)
Soror Jo Ann Coleman (deceased)
Our current Chapter President is Soror Cynthia Giddens Hunter.
The Chapter's most notable project, and our longest-running community program, was our annual Sepia Fashion Revue and Scholarship Luncheon, which we celebrated for 38 years. This program helped to fund our Carter-Weaver Scholarship Recipients for over a quarter century, offering monetary awards to deserving youth. In 2015, we began showcasing local Black owned Modeling Production vendors furthering our efforts of keeping Educational Development a priority in the work we do.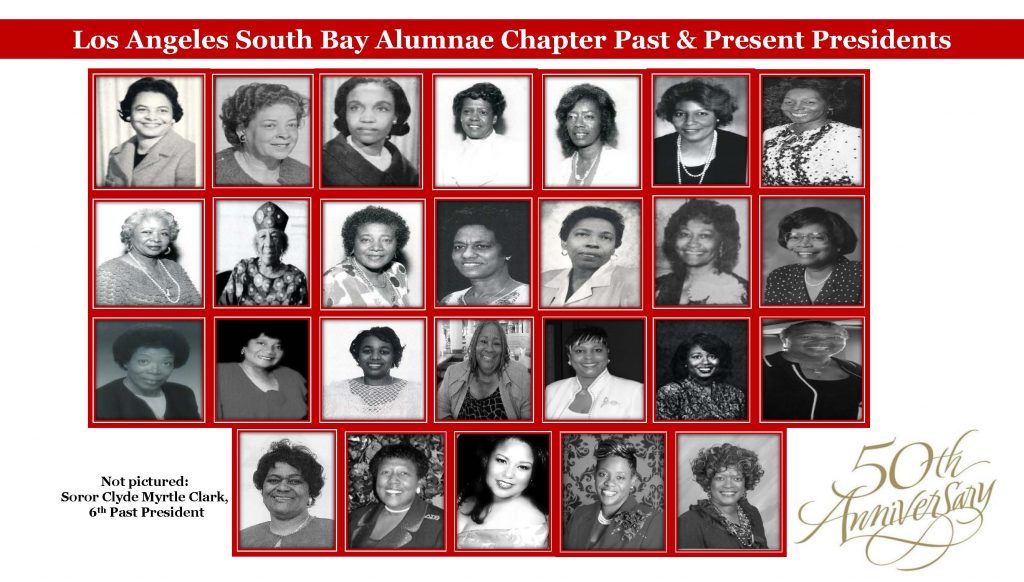 Los Angeles South Bay Alumnae Chapter
Past Chapter Presidents (by year of election)
| | | | |
| --- | --- | --- | --- |
| Year | Name | Year | Name |
| 1966 | Neicyee Robinson* | 1991 | Georgene Taylor* |
| 1968 | Thelma Hardwick* | 1993 | Mary Idella Coleman |
| 1970 | Anne-Louise Stafford | 1994 | Julia Banks Williams |
| 1972 | Hortense Woods* | 1996 | Helen J. Newton Fobi |
| 1974 | Guinnevere Hodges | 1998 | Bettye Jenkins Love |
| 1976 | Nancy Banton* | 2000 | Lula Morehouse |
| 1976 | Myrtle Clark | 2002 | Jenelle Jackson Franklin |
| 1978 | Shirley Ross* | 2004 | LaVerne G. Davis, Ed.D |
| 1980 | Elizabeth Barr* | 2006 | Essie French-Preston, Ed.D |
| 1982 | Carrie A. Haynes* | 2008 | Linda W. Evans |
| 1984 | Julia Banks Williams | 2010 | Linda W. Evans |
| 1986 | Annie Mae Butler | 2012 | Christal Foster |
| 1987 | M. Elayne McCrumby | 2014 | Aisha K. Childs |
| 1989 | Eleanor C. Thomas | 2016 | Cynthia Giddens Hunter |
* deceased