CHAPTER PROGRAMS & PROJECTS
Since its founding in 1913 Delta Sigma Theta has clearly distinguished itself as a public service organization that boldly confronts the challenges of African Americans and, hence, all Americans. Over the years, a wide range of programs addressing education, health, international development, and strengthening of the African American family have evolved. In realizing its mission, Delta Sigma Theta provides an extensive array of public service initiatives through its Five-Point Programmatic Thrust of Economic Development, Educational Development, International Awareness and Involvement, Physical and Mental Health, and Political Awareness and Involvement.
FINANCIAL FORTITUDE
Economic stability is a key element in creating and maintaining strong communities. To address the need for economic development, Delta Sigma Theta put forth Financial Fortitude, a process specifically designed to promote understanding of all aspects of the financial system, including but not limited to, budgeting, home ownership, personal wealth management, entrepreneurship, and the steps to financial freedom.
LASB's Economic Development Committee provides information and facilitates discussion regarding relevant local, state, and national financial topics with its chapter members and the community through workshops and other events.
Click here for more information on Economic Development
As an organization of college-educated women, Delta Sigma Theta plays an active role in the educational movement, seeking to inspire, motivate, and support the aspirations and achievement of youth and young adults.
THE CARTER-WEAVER SCHOLARSHIP PROGRAM
Every year, LASB awards scholarships to graduating high school students via The Carter-Weaver Scholarship Program. Scholarship funds are generated through our Annual Sepia Fashion Revue and Luncheon, as well as additional fundraising efforts. To date, LASB has awarded over $300,000
Click here for more information on The Carter-Weaver Scholarship
EMBODI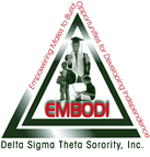 Empowering Males to Build Opportunities for Developing Independence (EMBODI) is the signature program of Delta Sigma Theta Sorority, Inc.'s 24th National President, Cynthia M.A. Butler-McIntyre. EMBODI is designed to refocus Delta's efforts to collaborate with other established organizations and agencies to address the plight of African American males. The EMBODI program provides a continuum of services and addresses the specific needs of African-American males.
Both informal and empirical data suggests that African American males continue to be in crisis and are not successful educationally, socially, and emotionally. EMBODI is designed to address these issues through dialogue, recommended strategies, programs and activities.
The goals of EMBODI are:
To expand the horizons of young African American males by cultivating a personal vision for their lives;
To provide tools for young African American males to attain a higher quality of life;
To provide young African American males with an awareness of various college and career options to make rewarding life choices and decisions; and
To create community-minded young African American males by actively involving them in service learning and community service opportunities.
The Program serves as a motivational tool for African American teenage males with the ultimate goal of increasing their knowledge and awareness of issues affecting young men today.
Click here for more information on EMBODI
BLACK HERITAGE ESSAY WRITING CONTEST 
The Black Heritage Essay contest encourages students from local South Bay High Schools to write on various topics of interest; helping them to develop proficient writing skills. Through this essay competition, LASB encourages students to use writing as a form of expression and a means of connecting with their culture. This project is a catalyst for identifying talent and enhancing self-esteem. LASB provides a monetary award to the competition winners.
DR. BETTY SHABAZZ DELTA ACADEMY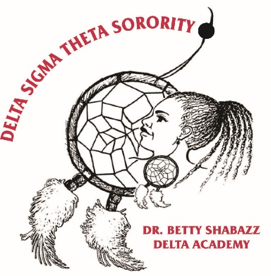 The Dr. Betty Shabazz Delta Academy was created out of an urgent need to save our young females ages 11-14 from the perils of academic failure, low self-esteem and crippled futures. This program provides an opportunity for local Delta chapters to enrich and enhance the education that our young teens receive in schools across the nation. Specifically, we augment their scholarship in math, science, and technology, their opportunities to provide service through leadership and sisterhood, and the development and maintenance of healthy relationships.
LASB recruits young females each year to participate in workshops, field trips, and other activities involving such topics as etiquette, technology, cultural awareness, self-awareness, and personal finance.
Click to here to download the Delta Academy Application
Click here for more information on Delta Academy

DR. JEANNE L. NOBLE DELTA GEMS
(Growing and Empowering Myself Successfully)
The Dr. Jeanne L. Noble Delta GEMS was created as an expansion of the Dr. Betty Shabazz Delta Academy to encompass at-risk, adolescent girls aged 14-18. The Delta GEMS framework is composed of five major components (Scholarship, Sisterhood, Show Me the Money, Service, and Infinitely Complete), forming a road map for college and career planning.
The goals for Delta GEMS are:
To instill the need to excel academically
To provide tools that enable teenage girls to sharpen and enhance their skills to achieve high levels of academic success
To assist teenage girls in proper goal setting and planning for their future high school and beyond
To create compassionate, caring, and community minded young women by actively involving them in service, learning, and community service opportunities
Click to here to download the Delta GEMS Application
Click here for more information on Delta GEMS
Delta Sigma Theta has an extensive history of involvement in international issues, including human rights and developing infrastructure. This involvement led to the establishment of several chapters outside of the United States and the participation in projects related to addressing the needs of diverse cultures.
Water Wells and Tanks
Clean water, or the lack of it, is one of the major reasons why five million children in Africa succumb annually to water borne illnesses. Having recognized that people who live outside the reality of readily accessible clean water may take its availability for granted; Water for Children Africa provides safe water tanks in rural villages on the continent. Delta Sigma Theta is a partner with this uniquely responsive non-profit organization to address the need for clean water. The sorority's goal is to provide an underground water well in Ghana. In addition, each of the sorority's seven regions will sponsor one above ground water tank at seven Kenyan elementary schools.
Well Rehab in Sierra Leone #564



Adopt-A-Child/Sponsor-A-Child
Surviving on less than one dollar a day, more than one billion of the world's children live in extreme poverty. LASB plans to make monetary donations and other gifts that will be pooled with those of other sponsors seeking to impact the communities where these children live. The recipient child will receive health care, education, nutritious food, and other necessities.
Click here for more information on International Awareness & Involvement
As an organization of predominately African American women, Delta Sigma Theta is uniquely positioned to impact not only the well-being of its members, but also the well-being of families and communities at large. To facilitate this effort, a Health Task Force was launched to educate and facilitate lifestyle change for the physical, mental, and spiritual well-being of sorority members and the communities we serve. The Health Task Force objectives are to:
Raise awareness about the importance and benefits of lifestyle changes that affect longevity, morbidity, and mortality;
Identify organizational alliances for the sorority that will work to address pertinent health issues; and
Develop and implement health-focused programs within the sorority and the communities we serve.
Accepting the charge of the Health Task Force, LASB actively implements programs with an emphasis on physical and mental health.
FOOD DISTRIBUTION PROGRAM
LASB is a Food Sub-distributor through the efforts of the USDA food distribution program. Each month, this program assists low income families by providing nutritional meals and health information at no cost. During its eighteen years of operation, the project has served an average of 100 families per month.
Click here for more information on Food Distribution
WOMEN HELPING WOMEN
The Women Helping Women Committee works very closely with His Sheltering Arms, a substance abuse treatment center that focuses on women and mothers. LASB has a long history of participation with this organization and its participants. Each year, the chapter hosts various programs at the center, including but not limited to, a poetry writing workshop, a Black History program, and serving Thanksgiving and Christmas dinner. Over the years, LASB has also donated toys, books, personal goods, and monetary gifts to the women and children at His Sheltering Arms.
Click here for more information on Women Helping Women
HEALTHY LIFESTYLES FOR THE FAMILY:
Preserving Mind, Body & Spirit
The LASB Health Resources Committee disseminates pertinent mental and physical health information to the chapter members, leads group exercise during chapter meetings, promotes local fundraisers with a focus on combating disease that affects the African American and female populations, and hosts an annual community health fair with other Delta Sigma Theta chapters.
In March of 1913, nearly six weeks after its founding, several Delta Sigma Theta Founders participated in the historic Women's' Suffragist March under the Delta Sigma Theta banner, the sorority's first public act. This act set the tone for the sorority's future endeavors and today, political awareness and involvement is a major fabric of the organization. A National Social Action Commission was formed to promote the legislative initiatives of the sorority, its membership, and the communities we serve. The Social Action Commission also serves to empower chapters to remain actively involved in local, state, and national political issues.
VOTER EDUCATION & REGISTRATION
LASB continuously participates in registering and educating voters in the community regarding their rights. The chapter's Social Action Committee launched a successful "I Promise to Vote" campaign for the 2008 United States Presidential Election.
PUBLIC POLICY & LEGISLATIVE INITIATIVES
During each election cycle, LASB hosts town hall and informational meetings to hear from representatives of local, state, and national candidates, as well as, disseminate materials on ballot initiatives that affect the residents of California.
DELTA DAYS AT THE NATION'S CAPITAL
In 1989, the National Social Action Commission instituted Delta Days in the Nation's Capital, an annual legislative conference to increase members' involvement in the national public policy-making process. The annual conference includes legislative briefings, issue forums, and advocacy skills development. Featured speakers include key policy makers, members of the United States Congress, Congressional staff members, and national issues experts.
DELTA DAYS IN SACRAMENTO
Delta Days in Sacramento is an annual legislative conference for the sorority's members in the State of California. Each year we travel to the state capital to meet with our state assembly and senate representatives to address pressing public policy concerns facing the South Bay and Los Angeles communities. Like Delta Days at the Nation's Capital, the conference includes legislative briefings, issue forums, and advocacy skills development.
Click here for more information on Political Awareness & Involvement
The National Arts and Letters Commission was established with the purpose of supporting African American women in the arts. Throughout its history, the Commission has been comprised of accomplished members of the sorority including Lena Horne, Nikki Giovanni, and Sheryl Lee Ralph.
The LASB Arts and Letters Committee regularly organize members to attend local performing arts, visual arts, literary arts, and other cultural events.